Xpress XP
Production on demand
High volume on-demand project with Microtech's Xpress XP-systems and thermal printers.
Dedicon offers a wide range of products and services, including accessible newspapers, magazines, books, study materials,...
Dedicon is reponsible for the production and development of accessible information. Dedicon carries out a number of co-ordinating tasks and services for the Alternative Reading Libraries in the Netherlands.
A daily production of 5.000 unique CD-R's ( unique content, unique print ) are produced from an on-demand application.

Versa-Net
API in VersaBurner
Using the API of VersaBurner, Versa-Net, in a customized application with the VersaCopier and thermal printers.
Technova is located in the Netherlands and has his roots in Tape- and Disk duplication with a strong accent on Quality and Technical Expertise.
For an important customer, they faced the challenge of bringing unique CD-R's to their customer clients without the possibilty of sending strict personal data to the wrong client. All data was stored in different data-files.
Using the API of VersaBurner, Versa-Net, and their own programming expertise which resulted in an unique verification tool, they where able to satisfy their customer.

VersaDUET
A Medical Story.
Alteris, the leading Polish company of PACS ( Picture Archive Communication System ) incorporates the VersaDuet for the storage on CD of Patients' images and personal data.
The key factors for Alteris selecting the VersaDuet over other competitive robotics was the form factor, speed and precision of the picker arm, the security having the disc labeled immediately after recording and the Versa-NET command line application.
VersaDuet offers a cost effective solution without sacrificing performance or reliability.

USB-Keys.
The Difference ?
USB-keys, not all the same !
USB-key Duplicators, not all the same !
You like to find out, click on the PDF below

Xpress XL
Kodak's Pictures CD-R's
How the Pictures CDR's from KODAK are made ?
You like to find out, click on the PDF below


3D PRINTERS from "SolidScape"
3D Printed Wax Models
Trace Digital Europe added the 3D Printers from the US-based Company "SolidSCape" to their portfolio. Our divison - Trace3DPrinter- has been appointed as VAR for the Benelux, after an intensive one week technical training at their headquarters in merrimack ( US ).
SolidScape is the reference in the 3D Printing Industry for "Investment Casting" of wax models. With over 4.000 systems installed worldwide, SolidScape has all what the Jewellery Industry needs. With the recent Introduction of the 3Z series, printing your DIRECT CASTABLE-ring, bracelet, hanger,... is just a question of pushing a few buttons.
The 3Z-Works software is extremely easy to use and with the 3Z-Analyser you have a powerfull tool to check/correct your model before starting your job.
For more Info visit our new Website :
www.trace3Dprinter.be

VERITY
Degausser
The V91HD/DLT degausser is a High Energy bulk eraser developed to tackle the erasing of both PC Hard Drives and DLT tapes.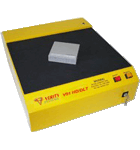 MICROTECH
Bulk Inkjet Printing ( CIS )
The XstreamJet, Inkjet printer from Microtech is based on an Epson engine with 6 inkcartridges.
A CIS ( Continuous Ink System ) is available as Add-on to this printer. This will give you a total printing autonomy of 2.000 pcs.
The cost/print is reduced to * 0,03 Euro/Disk !*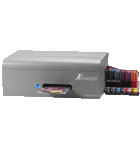 TEAC
Explorer1 Plus and DiscAthlon2
Trace Digital Europe NV supports the high qualified copy-and print robots from TEAC.
TEAC is today a global player and global market leader in CD/DVD/BD-recording equipment.
They are committed to innovation and works constantly on the development and production of new products and applications.
TEAC is the only manufacturer in the Disc Publishing Industry who cover all hardware components by itself.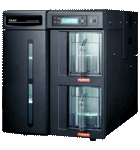 AZURADISC
Disc Care and Repair machines
The New Dual Disc II from Azuradisc is a fast and simple Desktop Disc Repair Machine. It can repair up to 240 discs per hour ! Repairs average, medium and deep scratches with the push of one button. Ideal for low to high volume. Repairs 2 discs in one cycle !!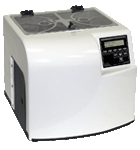 VERSACOPIER
VersaCopier Pro2
VersaCopier1
The VersaCopier Pro-2 is our new 8 Recorder system (20X SATA DVD/CD) and is now ready for shipment.
* The VersaCopier Pro-2 comes configured with a Versa Pro PC which has been specially configured to support 2 ( two ) VersaCopier Pro autolaoaders. So you have a total of 8 recorders and 2 printers.
* 2 different jobs running at the same time - a user can start one job on VersaCopier Pro1 and another job on VersaCopier Pro2, all from 1 Versa PC.
* Use of reject stack location. This option can optimize the handling and throughput of the system with a factor 2.
The VersaCopier1 is our new ONE drive duplication and publishing system. It comes configured with 1 SATA-20X recorder.
* The input capacity is 50 disks, and you still have the choise of printer : Inkjet, Thermal, TEAC P55B/C.
* The Blu-Ray configuration should save you several hunderd of Euro's compared to a Bravo Pro BD solution.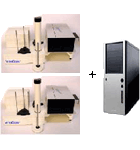 *****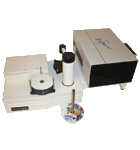 The Spotlight



Trace Digital Europe NV
Your professional partner for :

Blu Ray ** DVD-R ** CD-R
Disk Duplication Solutions
USB Key ** SD Card ** CF Card
Card Duplication Solutions

Entry level Solutions
Mid Range Solutions
High End Solutions
News & Events

* Entry Level

Free up your PC with a PowerTower Duplicator
Full Colour, quality images printed directly onto your discs
The VersaCopier1 works similar to your network-printer. One copier multi-
ple users
Your best choice :
# VersaCopier1 #

* Desktop

Perfect for smaller runs of distributing information
Duplication and Printing
Networkable for multiple users
Your best choice :
# VersaCopier3 #

* Production

Massive multi drive input with multiple printer options
Target : 24/7 hours operations
Reliable, fast and efficient
Your best choice :
# VersaCopier Pro2 #

» Click for more Information

» Click for more Information

» Click for more Information

CD/DVD Printers
Professional Memory Card and USB Duplicators
Degaussers

* Professional Printers

Manual and Automated operation
Inkjet, Thermal and Thermal Re-transfer print-technology
Teac P55 with Photo Ribbon for the best quality in our industry
Bulk Inkjet printing with XstreamJet Printer
Your best choice :
# VersaAutoprinter #

* Card & USB Duplicators

CF/ATA - and SD/MMC Duplicators
StandAlone or PC-Based/Network/Master-File Series
USB Duplicator/Tester

*HDD and Tape Degaussers

Manual systems, non-continuous duty
Manual systems, continuous duty
Full automatic systems, continuous duty

» Click for more Information

» Click for more Information

» Click for more Information